If you're a lover of musicals, nature, Japanese culture, running, charities or 1970's music - we have you covered! Our list for August has options for every interest and encourages you to get out and about in our beautiful city of Sydney.
August - Chicago the Musical
Be transported to the roaring 1920's with Chicago the Musical. The critically acclaimed musical, having won 6 Tony Awards, 2 Olivier Awards, as well as a Grammy, is showing at the Capitol Theatre through August and into October. It stars Natalie Bassingthwaighte as Roxie Hart, Alinta Chidzey as Velma Kelly and Casey Donovan as Matron 'Mama' Morton'. So get ready for a bit of razzle dazzle!
Click here for more information.
Image from Capitol Theatre
August 11th - City 2 Surf
Participate in the world's largest Fun Run! The City 2 Surf is very soon, so this is your last chance to register to run for the cause that's closest to your heart. Entries close August 10th! The groups left to join are: those planning to finish in under 56 minutes, those planning to finish under 140 minutes, and the back of the pack group. The course has entertainment at every curve, with bagpipes, Afro Brasiliana, the Australian Army Rock Band, Robbers Dog Jazz band, and many other performers. They have already raised a staggering $2,679,205!
Click here
for more information.
Image from City 2 Surf
August 15th - 29th - Fleetwood Mac
Fleetwood Mac, loved the word over, are coming to Australia in August! The tour has original band members Mick Fleetwood, Stevie Nicks and John and Christine McVie, as well as new additions Mike Campbells (Tom Petty and the Heartbreakers) and Neil Finn (Split Enz, Crowded House). Whether you're a super fan or only know a few tracks, you'll be dancing along to these classic songs all night. Warning: the only tickets left are on the pricier end. If you're interested, snatch the tickets up before they're all sold out!
Click here for more information.
Image from Consequence of Sound
August 17th - Sydney Cherry Blossom Festival
The Auburn Botanical Gardens are holding a Japanese inspired Hanami 'flower viewing' to celebrate the start of their beautiful cherry blossoms season. The nine day festival includes tours of the gardens, a Festival Bento Box created by chef Adam Liaw given to attendees during the walk of the park, as well as izakaya servings cups of Hanamikura Aya sake, which is made from the cherry blossom flower. Immerse yourself in the Japanese delights with a day spent in nature. Also, if you have a Cumberland address, you are able to attend the festival free of charge. Otherwise tickets are between $7.50-$10.00.
Click here for more information.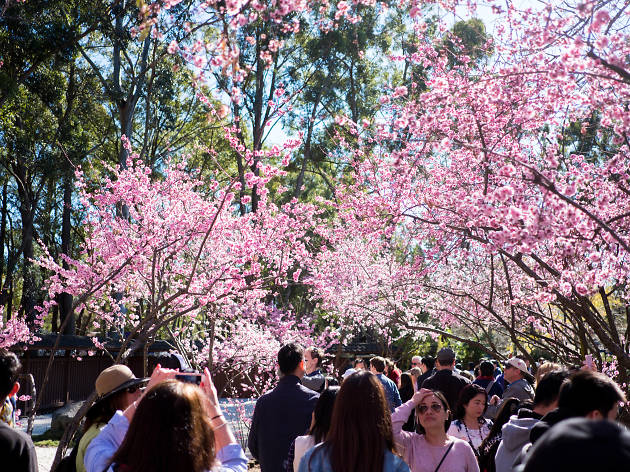 Image from Time Out